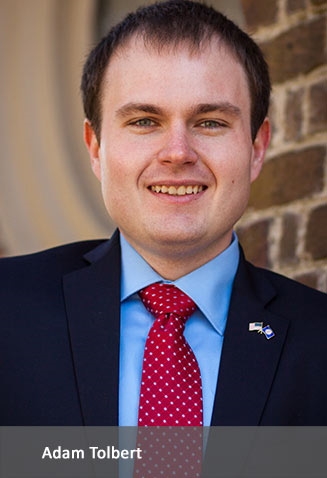 Education
Adam became one of the first members of the VHCC Upward Bound Program when it was launched in 1999 and soon began taking VHCC courses through the Dual Enrollment Program. Following his graduation from Northwood High School in 2003, he enrolled at the University of Virginia's College at Wise. He earned a bachelor's degree in Government and Political Science, graduating in just three years because of his prior coursework at VHCC. He earned a master's in Management from Liberty University in 2008. He is also a graduate of the Candidate Training Program and Political Leaders Program offered by the Sorensen Institute for Political Leadership at the University of Virginia.
Career
He began his career as an Informational Technology Specialist at UVa-Wise, then joined the Southwest Virginia Higher Education Center as IT Systems Engineer in 2013. He also teaches personal finance courses for the Elite Learning program of the Southwest Virginia Education & Training Network.
Awards & Personal Life
Adam currently serves as chairman of both the Smyth County Republican Committee and the Ninth Congressional District Republican Committee of the Republican Party of Virginia. He received VHCC's first Rising Star Alumni Award in 2012.