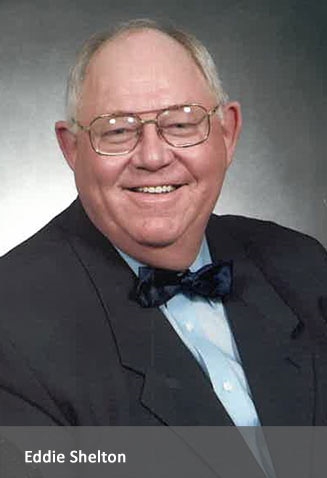 Education
Eddie earned an associate's degree in Business Management from VHCC in 1976, then continued his education at Steed Business College, earning a bachelor's degree in Business Administration in 1978.
Career
A native of Chilhowie, Eddie was drafted into the U.S. Army soon after high school and served our country for two years, primarily in Germany, before returning to the region. He went to work for the U.S. Postal Service in 1970 and then enrolled at VHCC. Eddie enjoyed a distinguished 30-year career with the Postal Service, and served as Abingdon's Postmaster for 17 years before retiring in 2001.
Awards & Personal Life
Since his retirement, Eddie has dedicated a majority of his time to music. He developed a love of music at an early age and performed his first solo at Chilhowie Baptist Church at the age of 13. He currently has a gospel music solo ministry and performs over 200 programs each year at churches, prisons, nursing homes, assisted living facilities, and hospitals. He also plays tuba for the orchestra at Euclid Avenue Baptist Church and the Stateline Wind Symphony in Bristol. He and his wife, Elaine, were married in 1969 and have two children, Dr. Christina Shelton of Abingdon and Dr. Jonathan Shelton of San Marcos, CA.