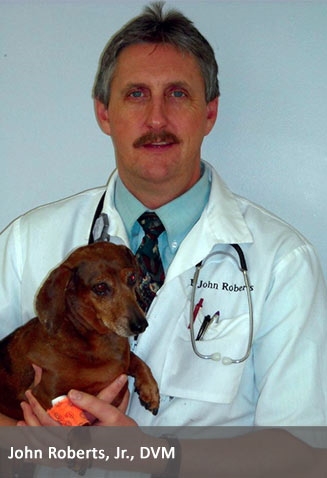 Education
Dr. Roberts graduated with honors from VHCC and was active in Phi Theta Kappa and intramural sports while working for local veterinarians. He also holds a BS in Animal Science from Virginia Tech and a Doctorate of Veterinary Medicine from Auburn University.
Career
Dr. Roberts began his career at Valley Animal Hospital in Mocksville, NC, where he worked as an Associate Veterinarian at a mixed animal veterinary hospital. He returned to Abingdon to join Highlands Animal Hospital, where he became a partner and was instrumental in helping develop the practice. Since 2010, he has been the acting Medical Director of Veterinary Centers of America in Abingdon.
Awards & Personal Life
He has served the community as a member of the VHCC Foundation Board, Justin Foundation Board, 4-H Advisory Board and coach of a traveling AAU basketball team. Additionally, he was commencement speaker at VHCC in 2005 and was awarded the VHCC Distinguished Alumni Award in 2014. Dr. Roberts says that VHCC holds a special place in his heart because it is there that he met his wife, Reba Fulton Roberts, also a graduate of VHCC (Business 1980). They have two children, Samantha, 24, a CPA at First Bank & Trust in Abingdon, and Wes, 22, a Senior at Virginia Tech, both of whom attended VHCC. The Roberts family enjoys camping, outdoor sports – kayaking & biking, and working on their Katahdin Hair Sheep farm. They attend Highlands Fellowship Church and are also avid Hokie fans.