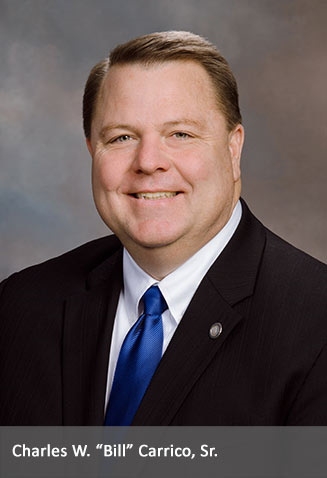 Education
A native of Marion and graduate of Chilhowie High School, Senator Charles W. "Bill" Carrico, Sr., studied drafting at VHCC in the early 1980s, then attended the Virginia State Police Academy.
Career
Sen. Carrico  joined the Virginia State Police, rising to the rank of Senior Trooper and General Instructor at the VSP Academy, before retiring with 15 years of service. He was elected to the Virginia House of Delegates in 2002 and served five terms as a representative of the 5th District. He continued in that capacity until 2012, when he was elected to the Virginia Senate. He currently represents over 200,000 Southwest Virginians in the 40th District.
Awards & Personal Life
His honors include recognition as the Legislator of the Year by the Virginia State Police Association and Virginia Sheriffs' Association, and the Distinguished Advocate for Business by the Virginia Chamber of Commerce. In 2014, he was presented with the VHCC Distinguished Service Award for his many contributions to the College and community. Senator Carrico now resides in Fries, Virginia, with his wife, Paula Denise Sweet, and two children.