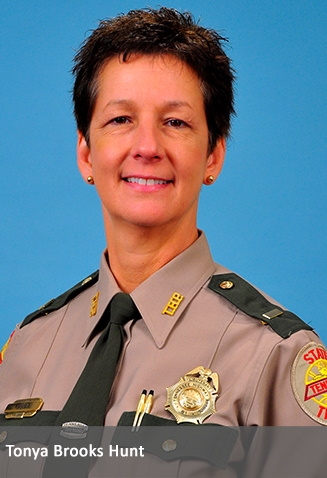 Education
Lt. Hunt grew up in Bristol, where her parents Bill and Betty Brooks still reside, and earned an Associate of Applied Science Degree in Police Science from VHCC in 1985. She continued her education at East Tennessee State University, earning a bachelor's degree in Criminal Justice, and is also a graduate of the Northwestern School of Staff and Command and the Tennessee Government Management Institute. Additionally, she has completed a long list of specialized training necessary to perform the duties of her law enforcement career.
Career
She began her distinguished career with the State of Tennessee in 1988 and now works for the Tennessee Department of Safety and Homeland Security's Nashville District of the Tennessee Highway Patrol.
Awards & Personal Life
While raising her son, Dalton Hunt - who is now also a Tennessee State Trooper - she was active on the Little League Board and an active middle school and high school baseball volunteer. Lt. Brooks enjoys traveling and, to date, has visited 48 states.